 Call Today For a Free Estimate.
Proudly serving: Whitby, Ajax, Oshawa & Durham Region
Sod Installation, Topdressing & Over-Seeding
Oshawa Landscaping & Gardening offers professional sod installation, topdressing & over-seeding

Our team has the experience and equipment to ensure a professional project. We will work with you to find the treatment that works best for your lawns condition. Our team takes the time to ensure a professional result and that your property is always tidy.
Proudly Serving the Following Areas.

Installation of Kentucky Bluegrass sod from local sod farms. Removal and levelling or existing grass. Topdressing & Over-seeding with peat moss soil.

De-thatching, raking of grass and leaves. Fertilizing and weed control solutions. Topdressing and over-seeding with triple-mix soil. Sod Installation.

Topdressing soil contains a mixture of sand and peat moss to fill low areas of the lawn and spread evenly. Over-Seeding with Scots seed.
Lawn Services Include:
Kentucky Bluegrass Sod Turf Installation
Lawn Levelling
Lawn Grading
Topdressing with Soil
Over-Seeding with Scots Seed
Spring & Fall Raking & De-Thatching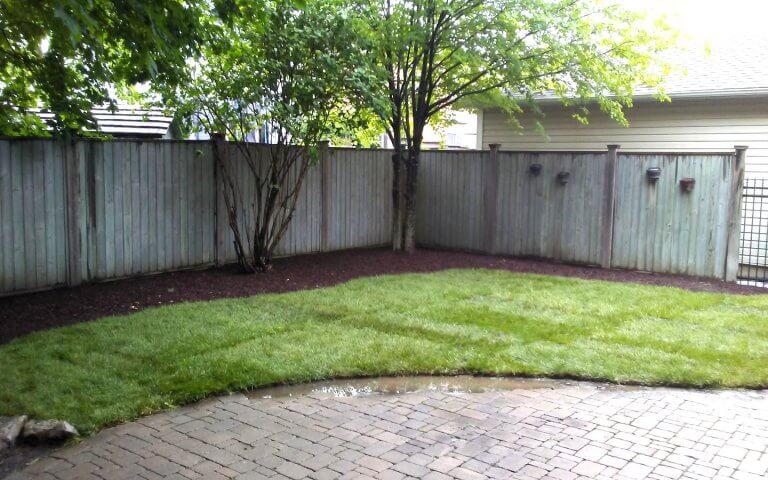 Transforming a yard from a plain green space into a living environment is as important as building or renovating a home.
If you are looking for a good investment, step outside your house. Studies have shown that properly done landscaping provides the highest return on investment of any type of home improvement. Landscaping can bring a recovery value of 100% – 200% at selling time. What better reason to invest in your property now and enjoy the benefits of an enhanced outdoor lifestyle.

Kentucky Bluegrass Sod Turf Installation
Removal of the Existing Turf Grass
Levelling & Grading Property
Adding Additional Topsoil
Installation of Turf Grass
Soaking with Water
Oshawa Landscaping & Gardening will assist you with grass and lawn care rejuvenation.
The process begins with removal of existing dead or weed infested grass. The soil is removed from the property to a specified depth. Soil amendments are added such as triple-mix. Leveling and grading of the property to allow adequate water drainage is observed.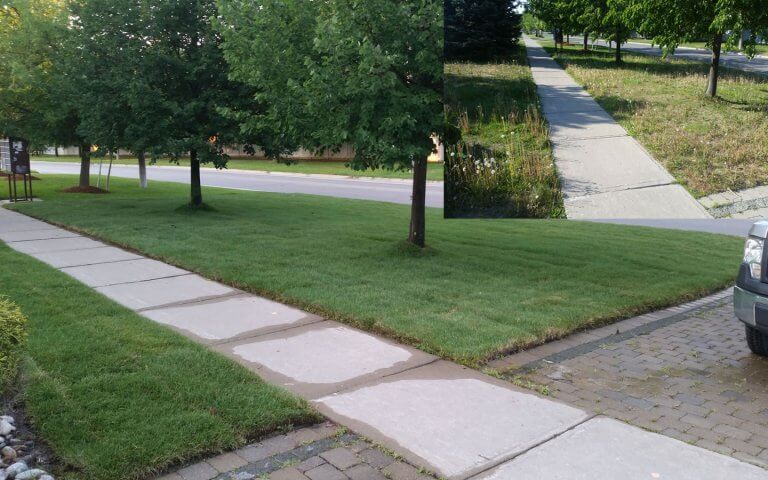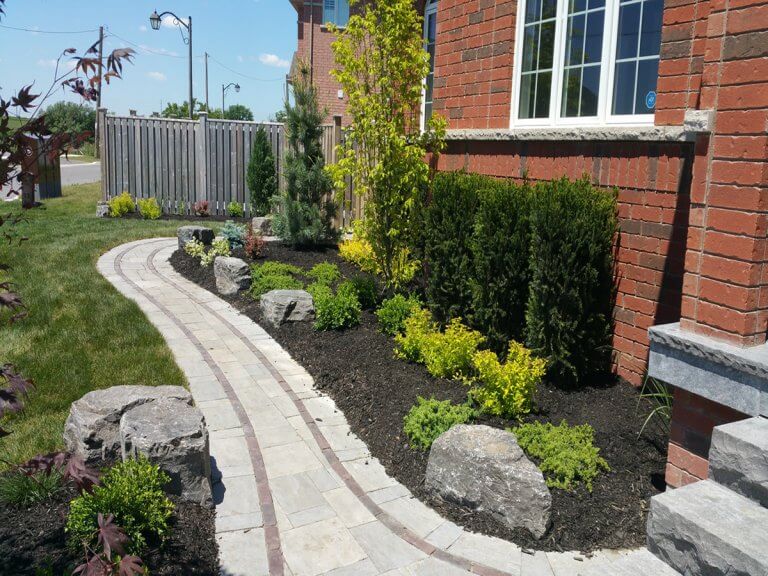 Laying of the sod by staggering it with each new row that the seams are offset from each other. Sod is cut around all interlock, driveway, and garden surfaces.
Watering thoroughly is the most important part of the development of the root system of your new sod lawn.
Mowing should be completed by one week after the installation. It is recommended that the lawn mower cutting height be adjusted to the highest position until the sod is fully rooted.
Kentucky blue grass is a cool season lawn grass. Bluegrass can be planted from seed or sodded and is one of the most popular turf grass lawns in Northern America. Bluegrass requires medium amounts of lawn care and makes beautiful home and sports grasses.

Cutting of very tall grass and non-maintained properties. Mowing, cut, trim of all lawn areas. Weeding of interlock and garden beds.

Help restore your lawn with our topdressing and over-seeding services. We will tailor our approach to restore your weed infested or damaged lawn.

Level your lawn for proper drainage and reduce lawn dead patches. We will recommend the service to include soil or fresh sodding of existing grass.
Copyright © 2023 Landscaping , Gardening & Sod | Whitby | Brooklin | Oshawa | Ajax | Pickering | Courtice | Durham Region Ontario |